Two symbols of Kuril Lake formed by volcanic activity: Ilinsky Volcano and Heart of Alaid Island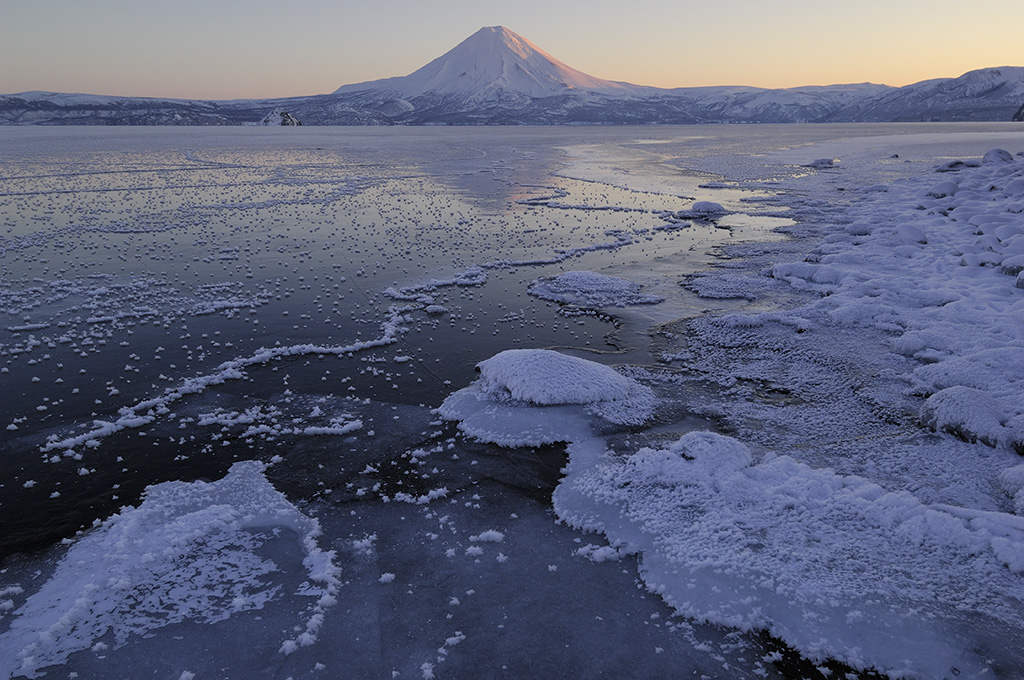 Kuril Lake freezes over for a few days, though not every year. January 2007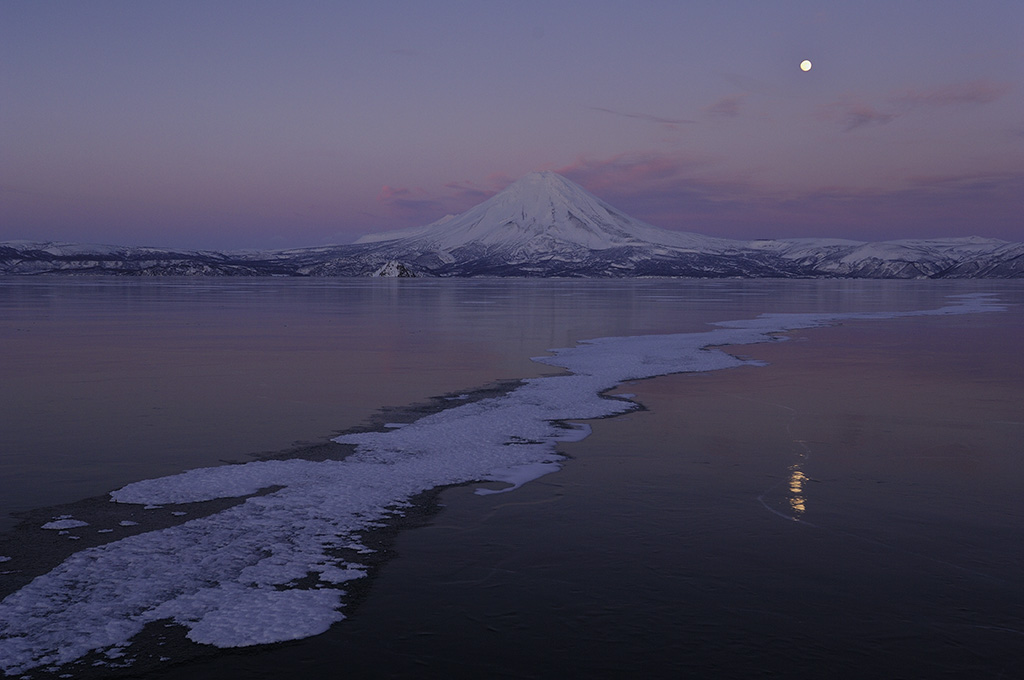 Frozen ice of Kuril Lake at dusk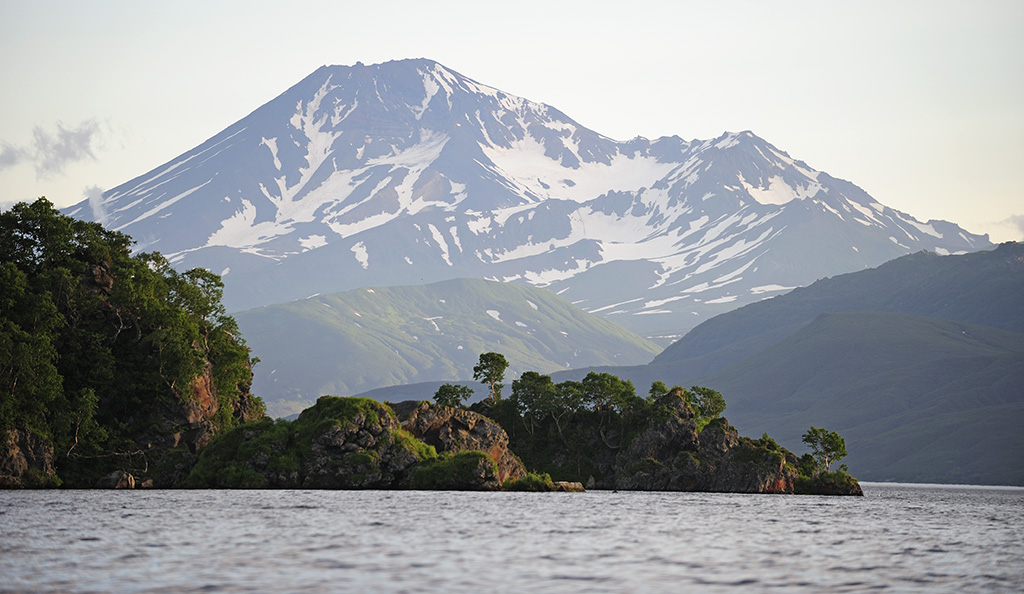 Kambalny Volcano as seen from Kuril Lake. Samang Island rises in the foreground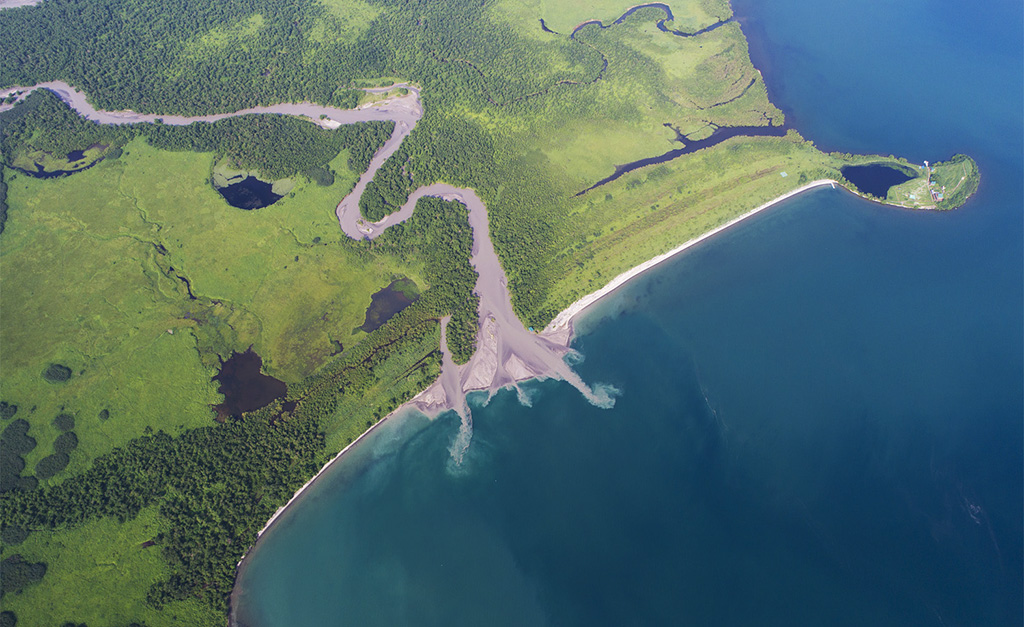 Kuril lake. Cape Travyanoy (Grassy) and mouth of the Khakitsyn River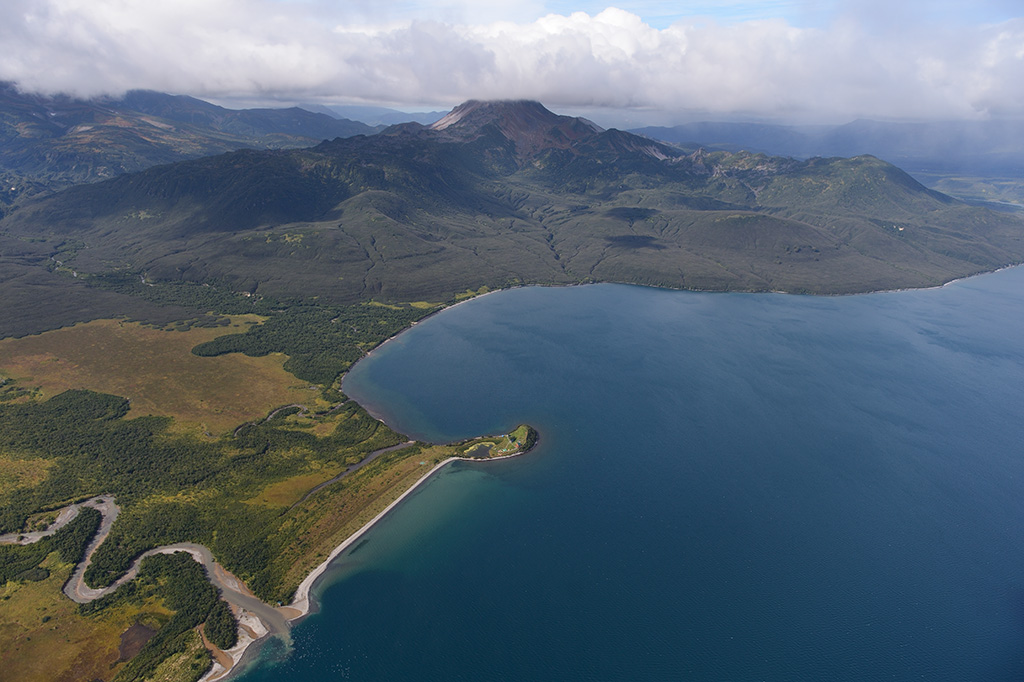 Kuril lake. Cape Travyanoy (Grassy) and mouth of the Khakitsyn River. View from a helicopter.
The red colour in the lake is thousands of salmon on their way to spawn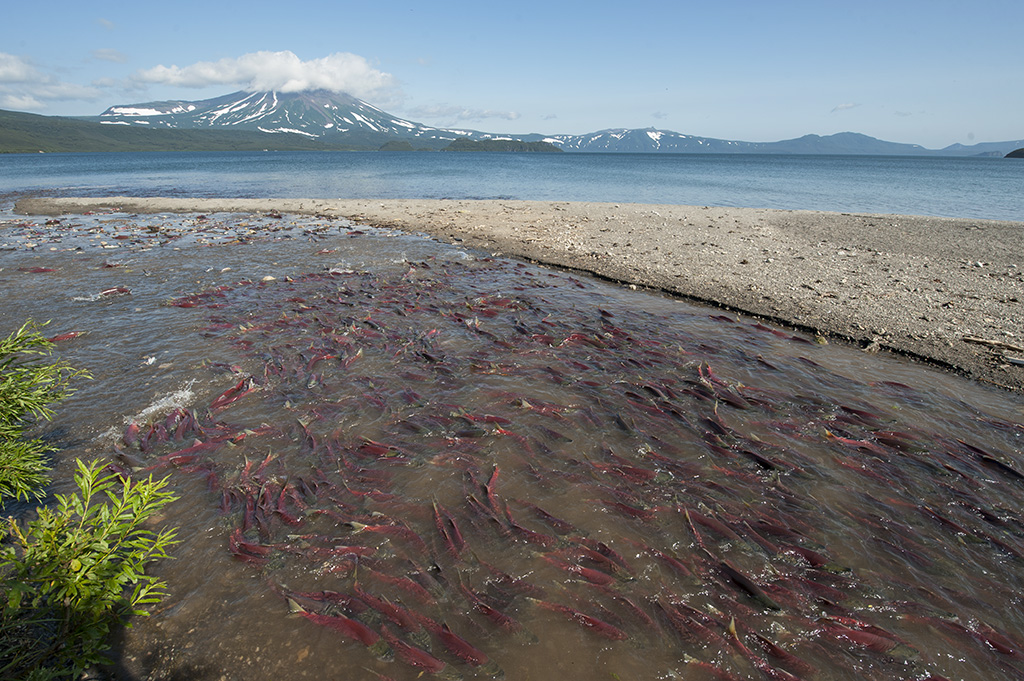 Sockeye enters the Severnaya River on Kuril Lake to spawn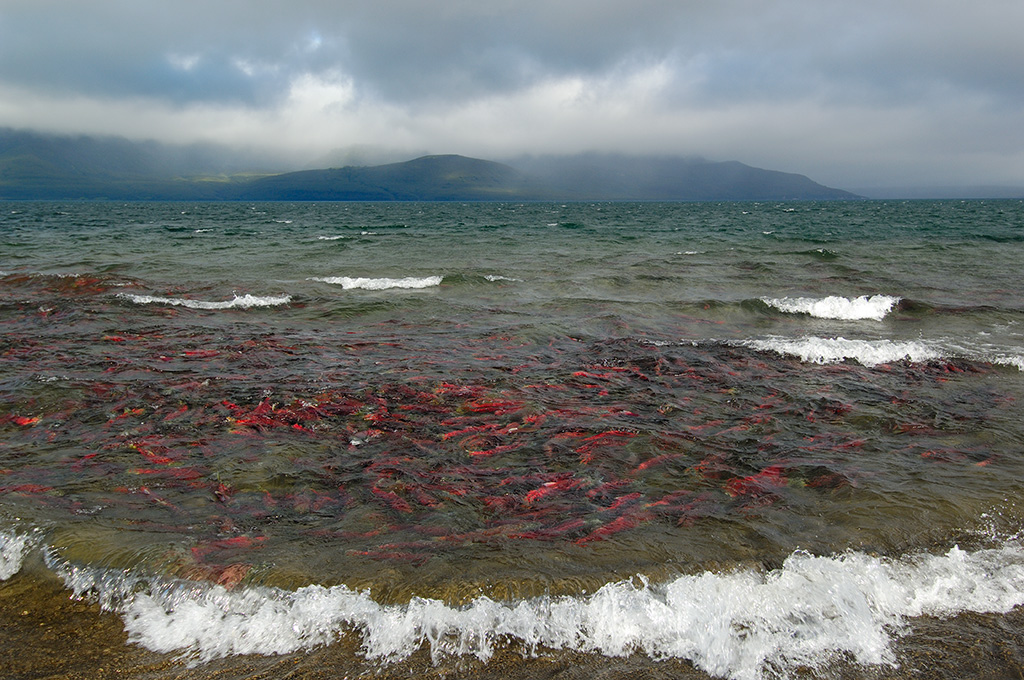 Sockeye on Kuril Lake. Kuril Lake is the largest sockeye spawning area in Eurasia and a haven for bears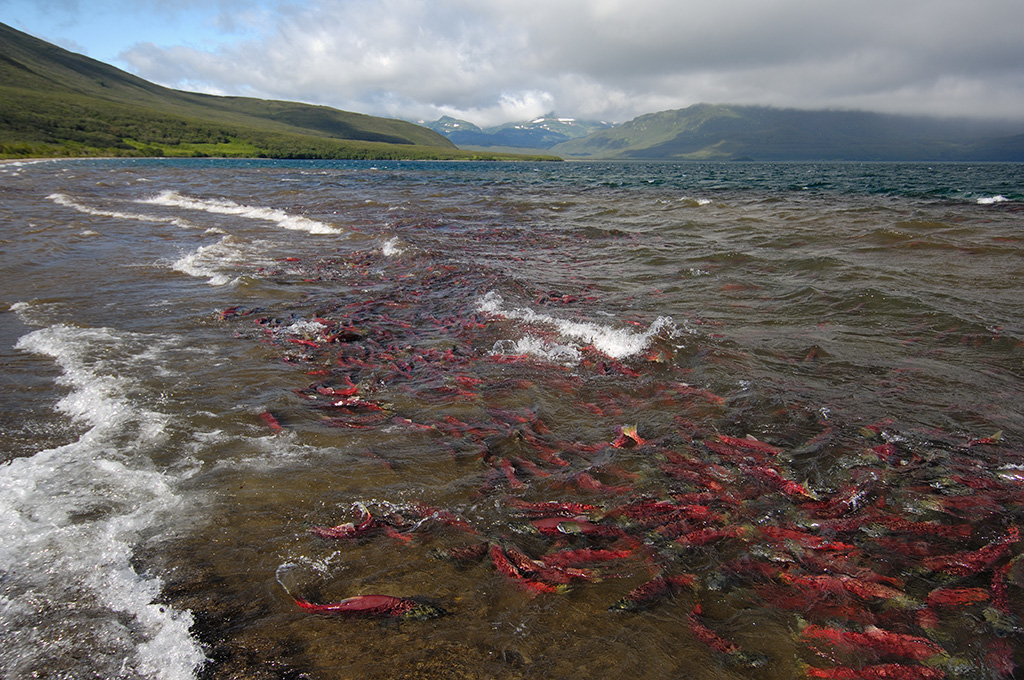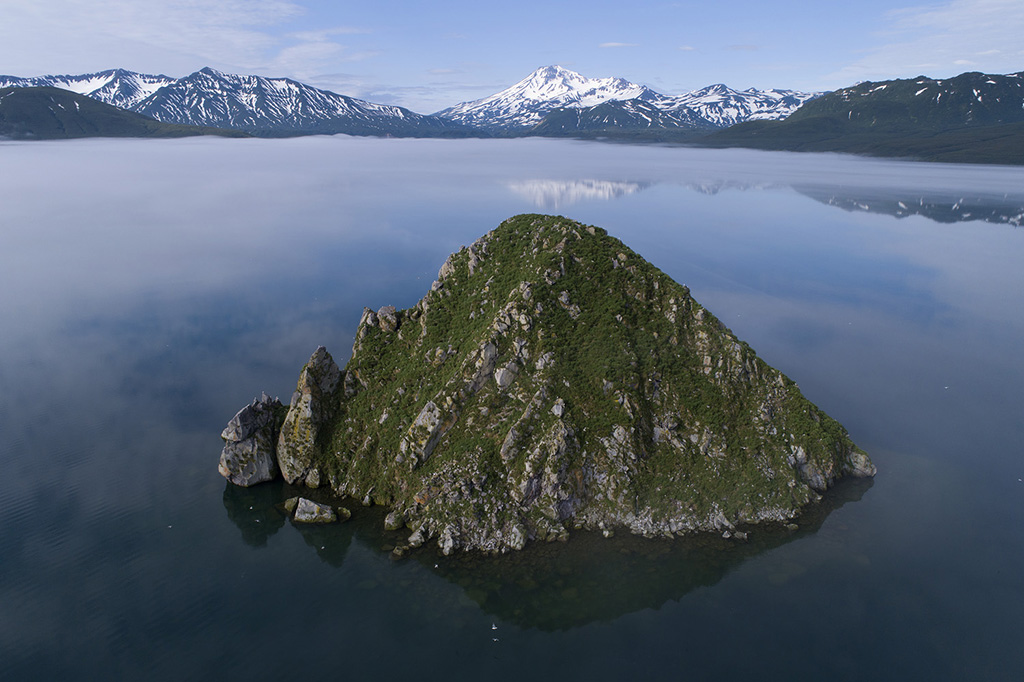 Alaid's Heart Island from above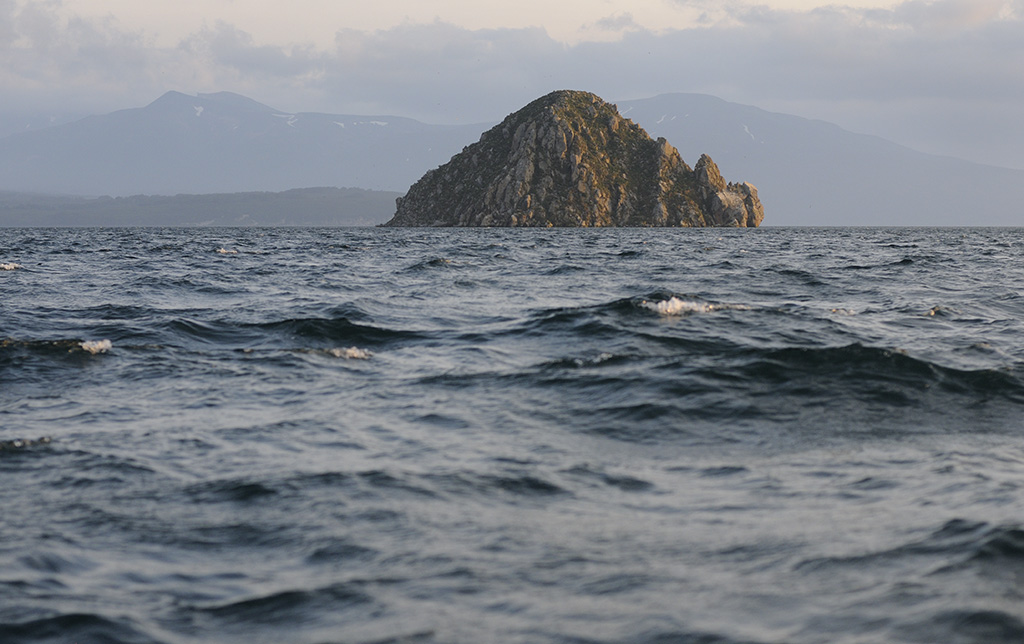 The Heart of Alaid Island on Kuril Lake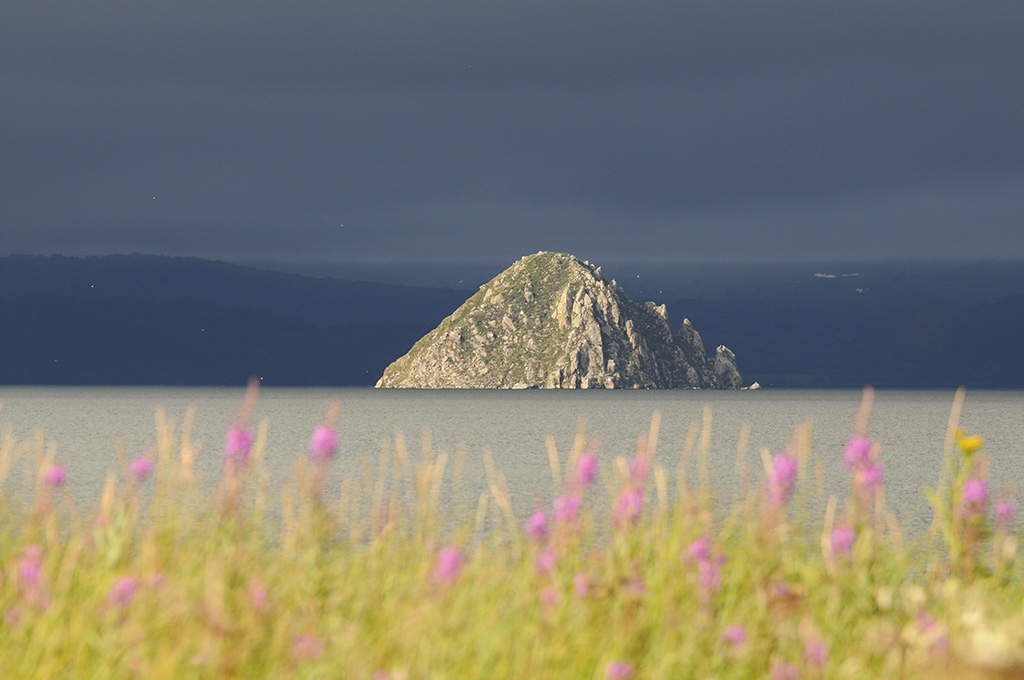 The Heart of Alaid Island on Kuril Lake before a storm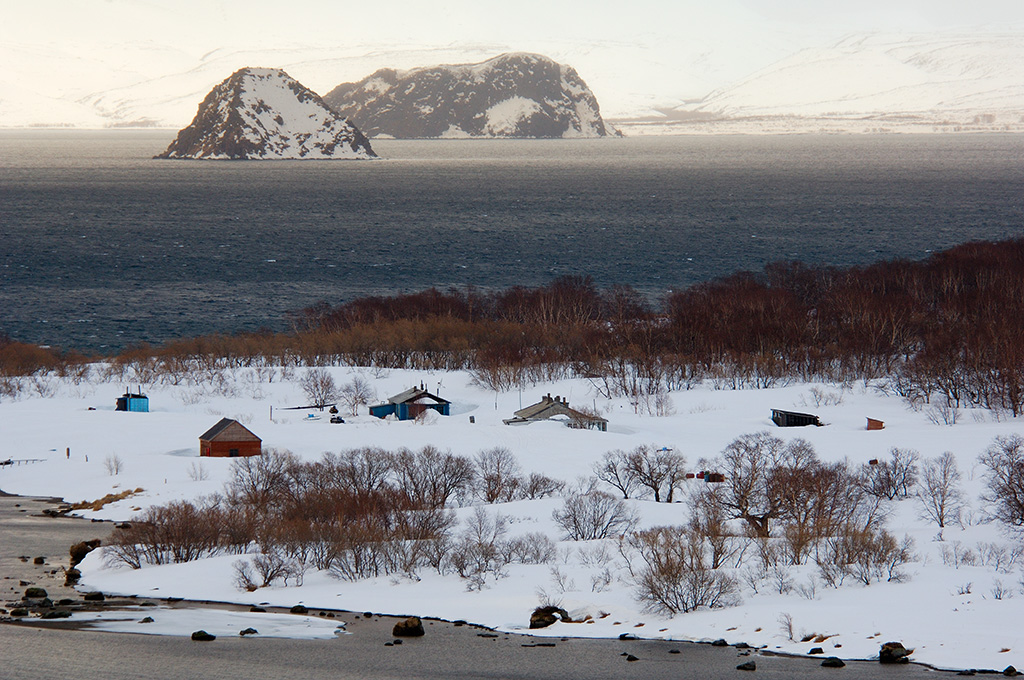 A fish station monitors spawning sockeye salmon on their way from the Okhotsk Sea into Kuril Lake. The stone jutting from the center of the lake is called the "Heart of Alaid" and is surrounded by many legends. April 2005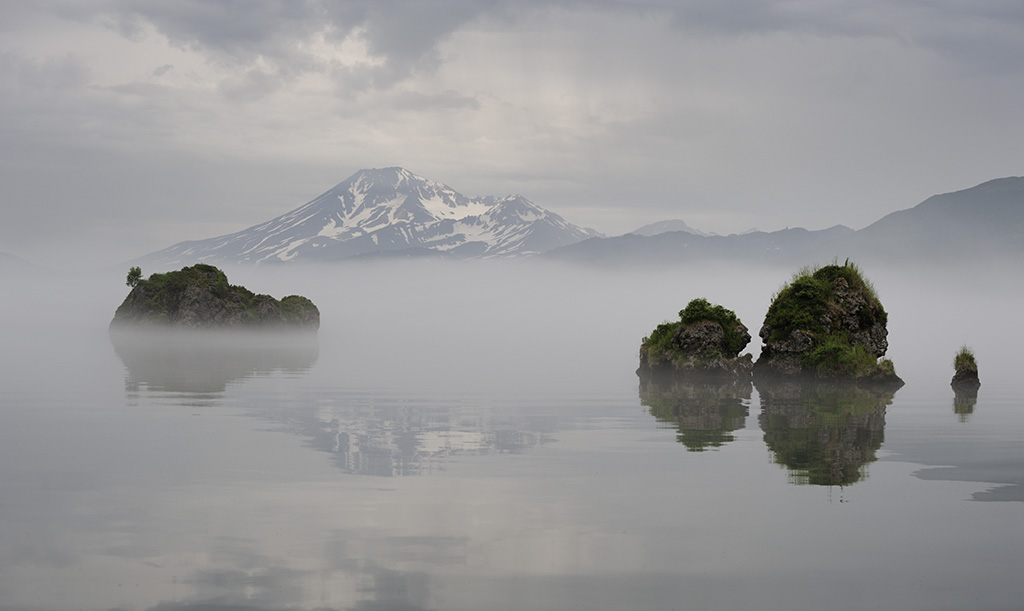 Morning on Kuril Lake. Kambalny Volcano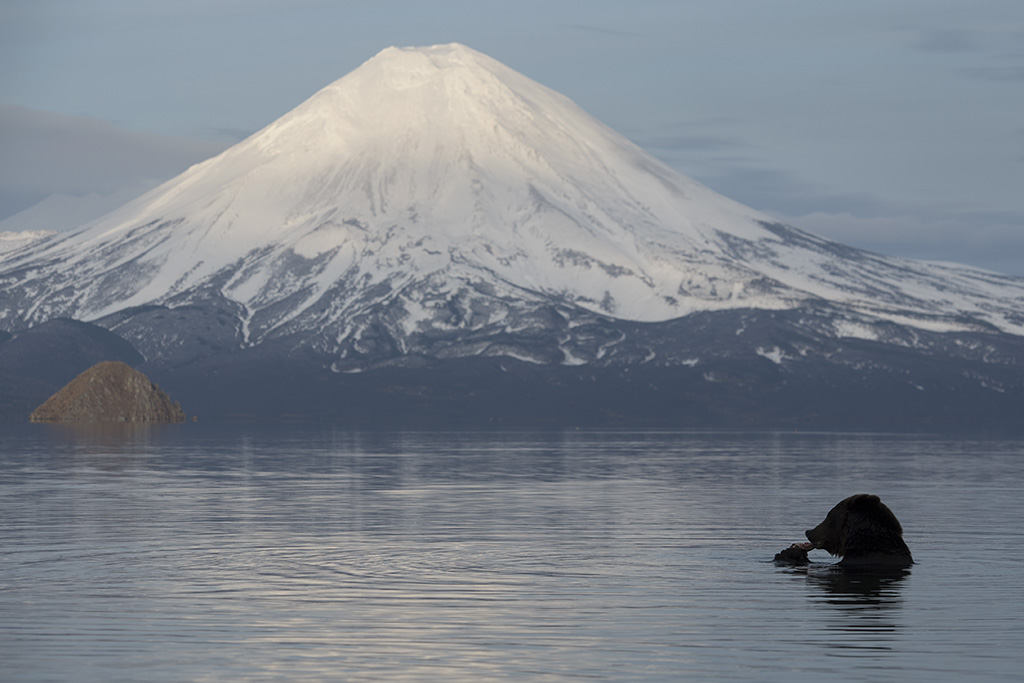 Ilinsky Volcano is one of the most beautiful volcanoes with a perfectly-formed cone. With a height of 1,578 meters and a diameter at its base of eight kilometers, the southern slope of the volcano descends into Kuril Lake. This volcano is the most noticeable adornment in the lake's panorama.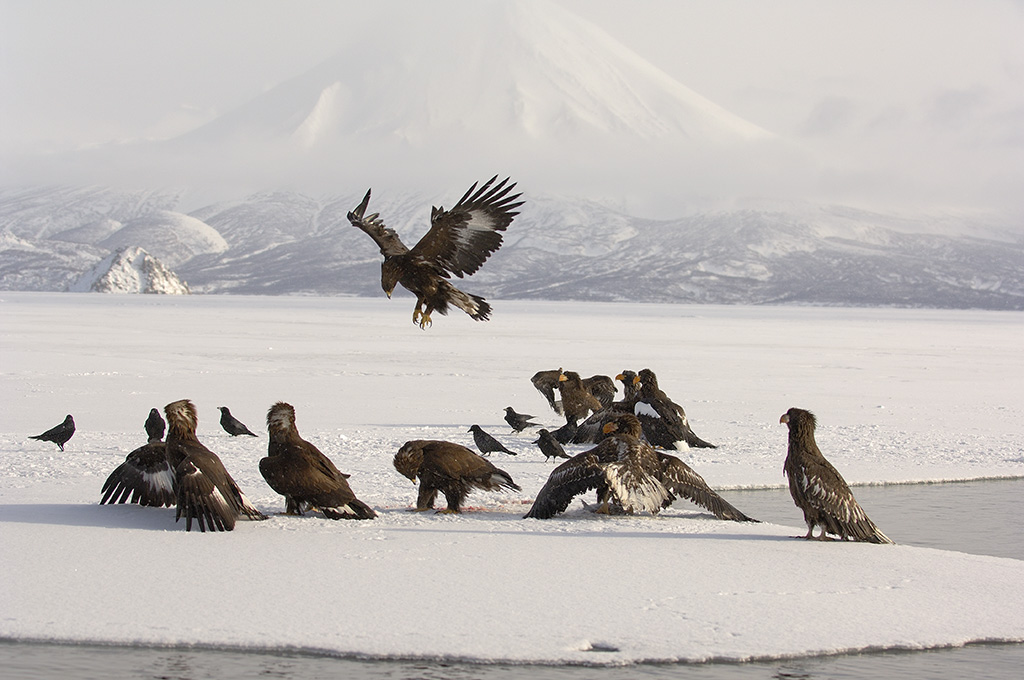 Stellar sea eagles, golden eagles, and crows at the sockeye winter spawning area on Kuril Lake with Ilinsky Volcano in the background/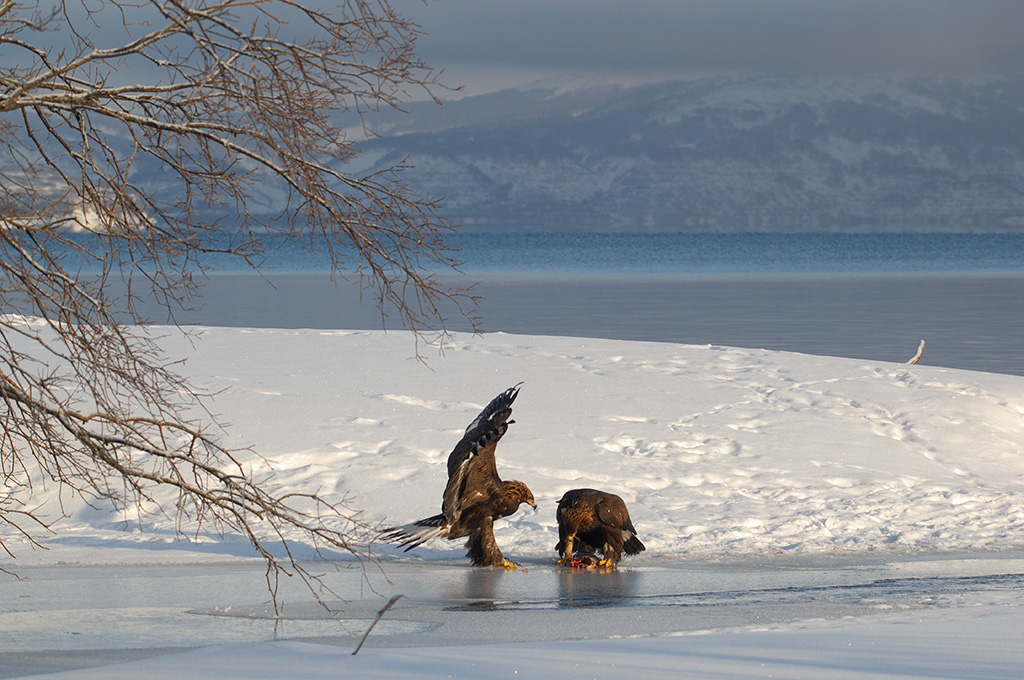 Golden eagles on Kuril Lake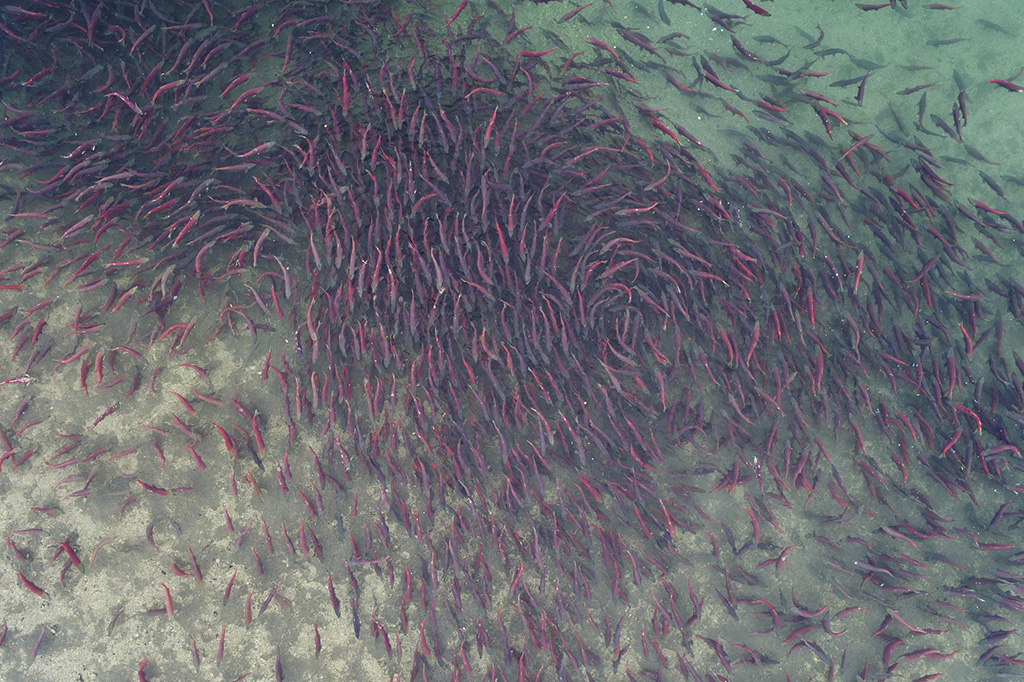 Sockeye salmon from above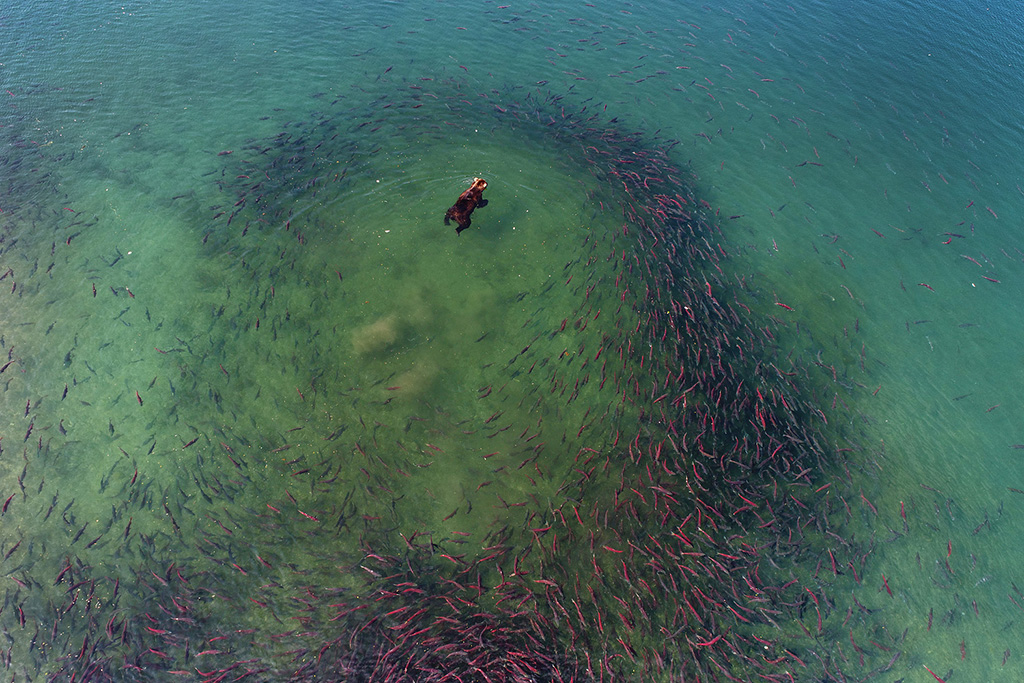 Kuril lake. Bear and salmon from above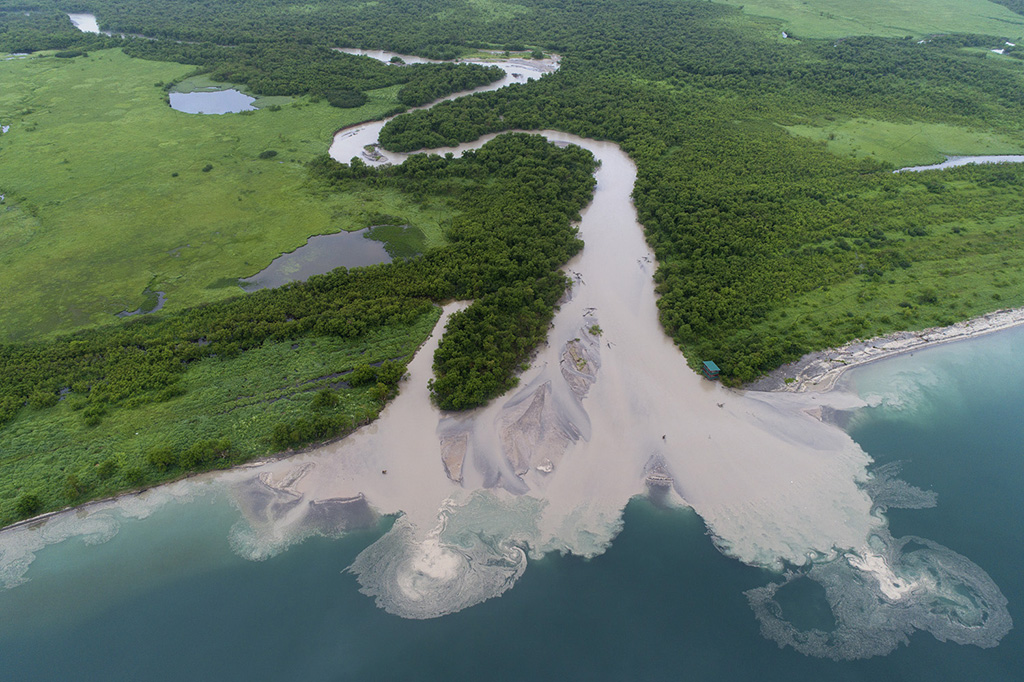 Kuril lake. The mouth of the Hakitsin River after the typhoon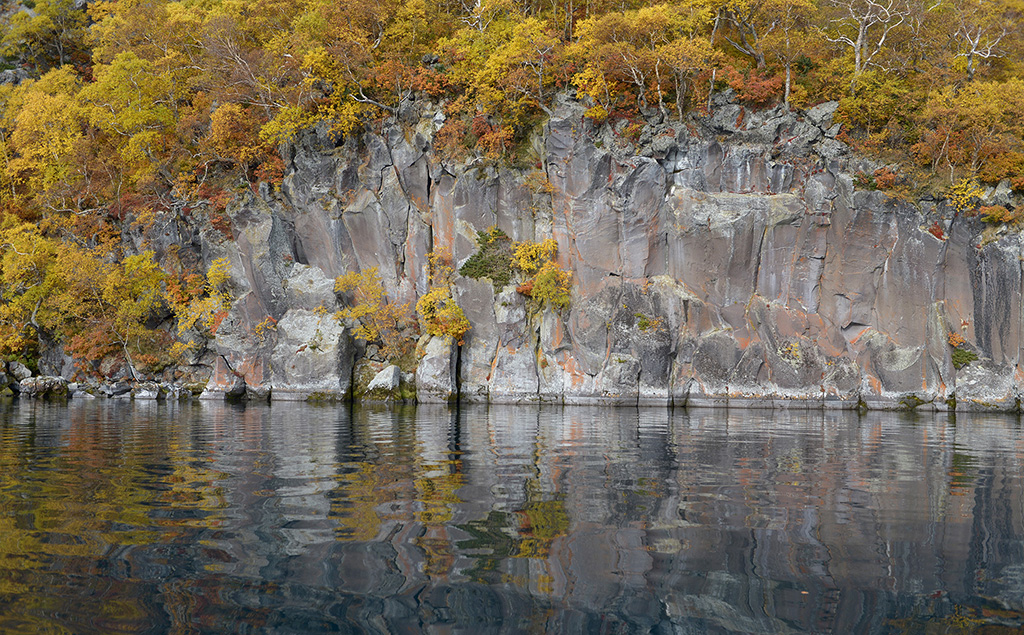 Golden Autumn in the Samang islands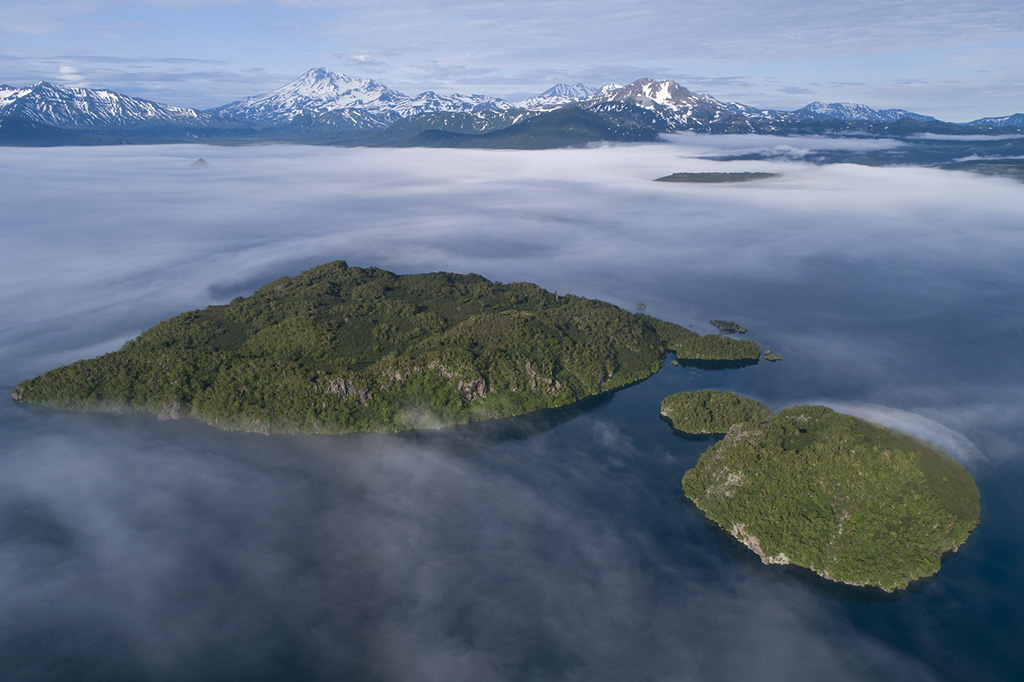 It's a beautiful morning. The Samangi Islands in the northern part of Lake Kuril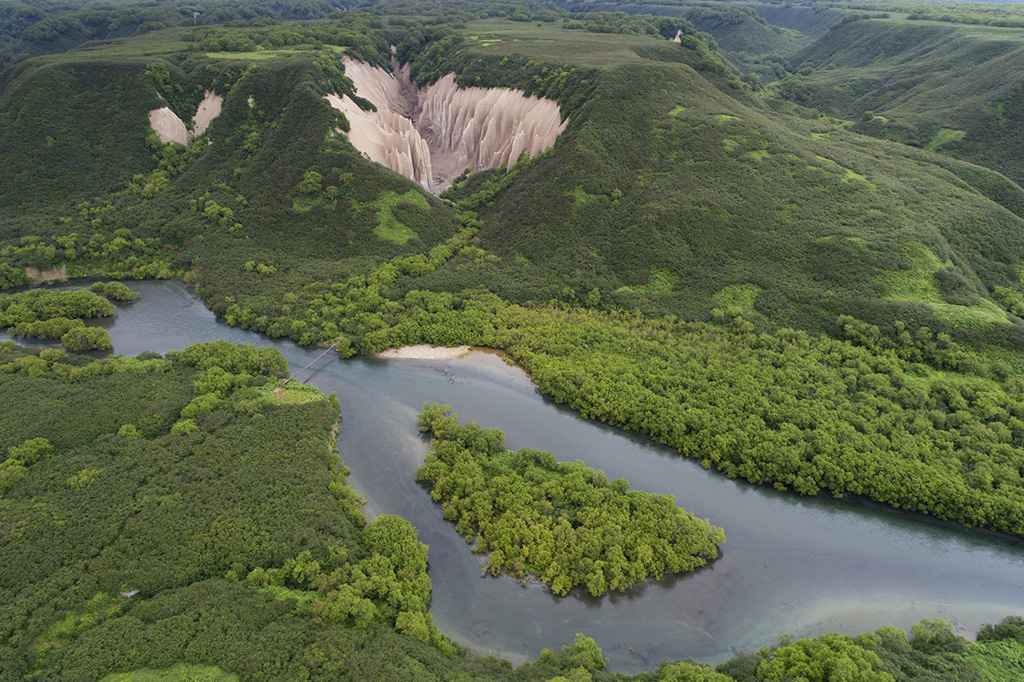 According to legend, the cliffs are boats (similar to Native American canoes) that the wise raven Kutkh once set to dry and then forgot ashore. The raven Kutkh was the main god of the Itelmen, an indigenous people of Kamchatka, and «bat» meant long boat.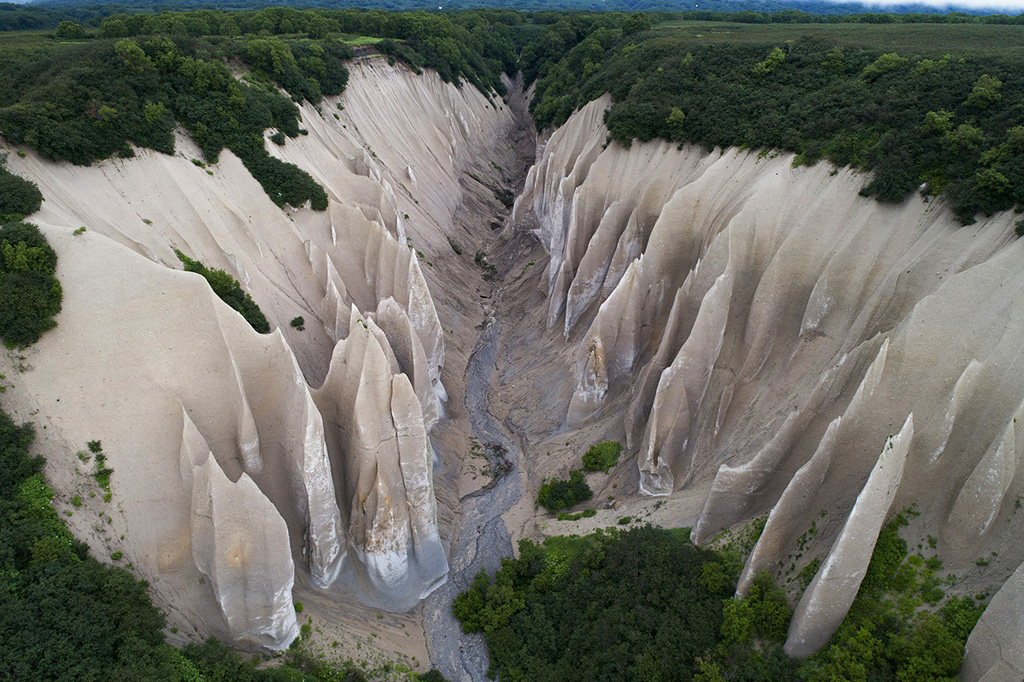 Kutkh's Bats (Boats) are a natural monument created from bizarrely exposed pumice. Literally translated, this site's name is «Boats of the god Kutkh». Located four kilometers from the source of the Ozernaya River (Kuril Lake)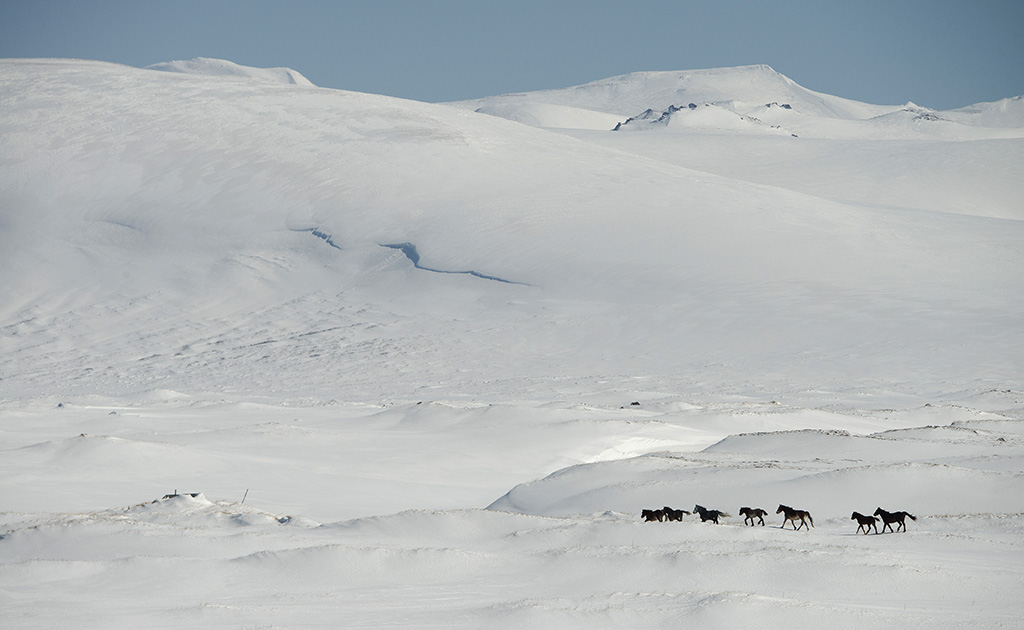 A herd of semi-wild horses on the west coast of the sanctuary. They are living without human help for decades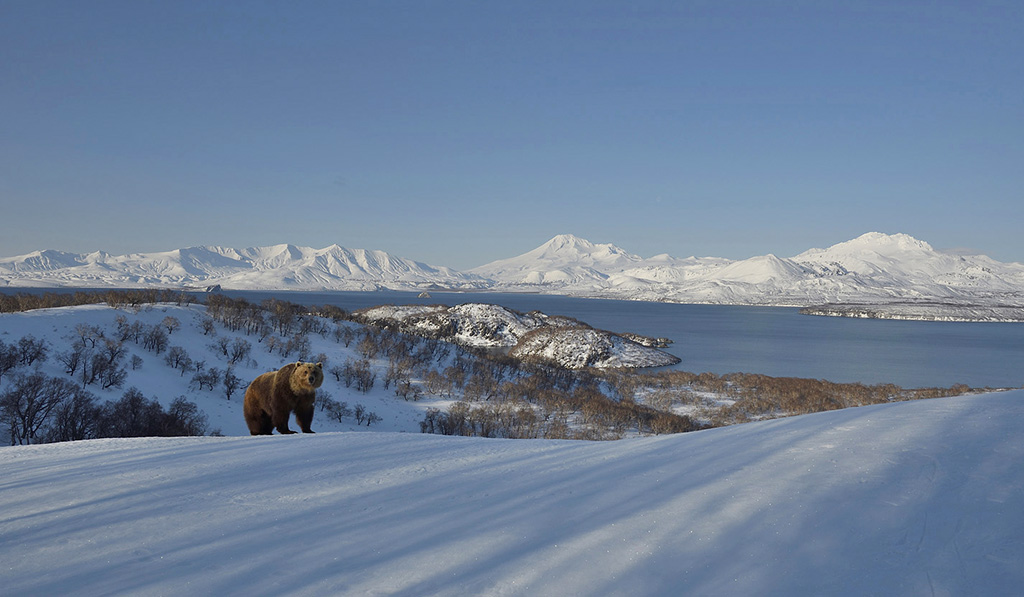 Kuril lake in May. Bears come out of their dens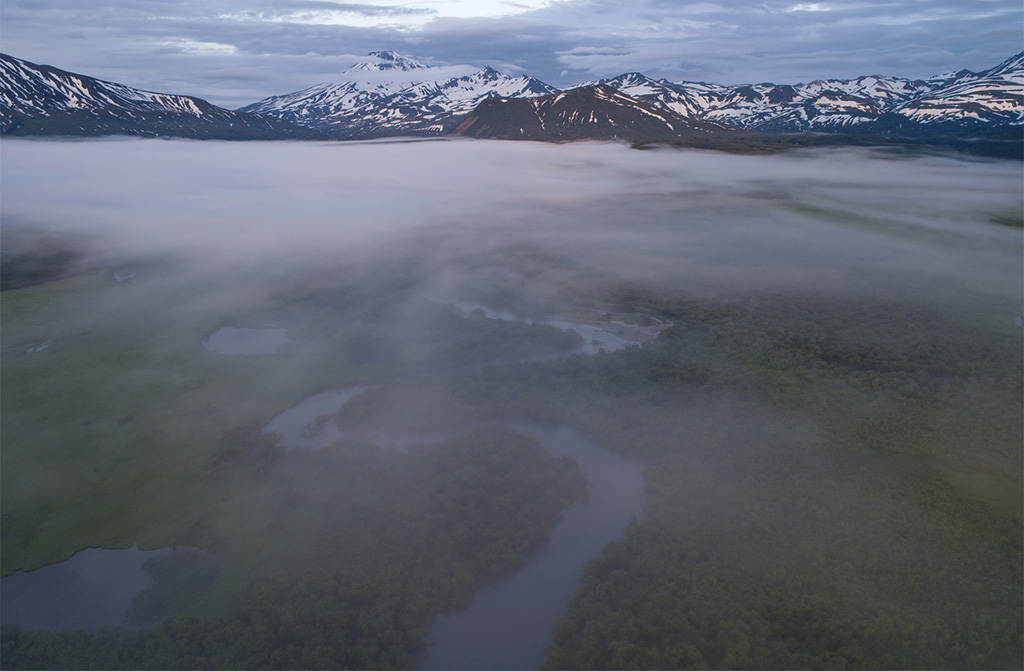 Morning fog over the lower reaches of the Hakitsin River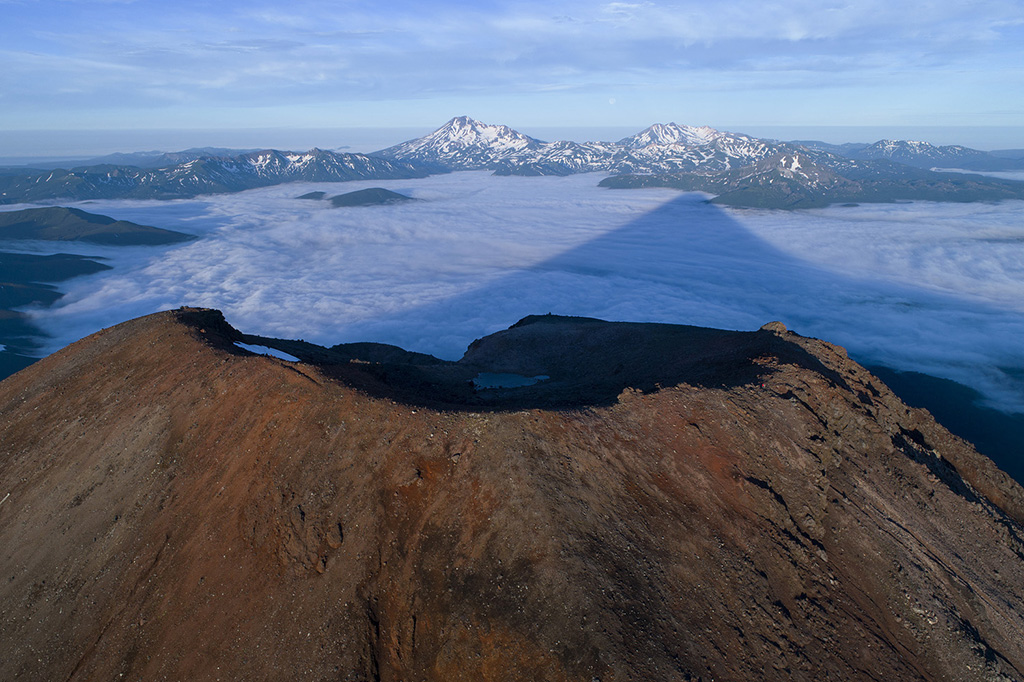 The crater of Ilyinsky volcano from the northern side. In the background is Kuril lake in the morning fog...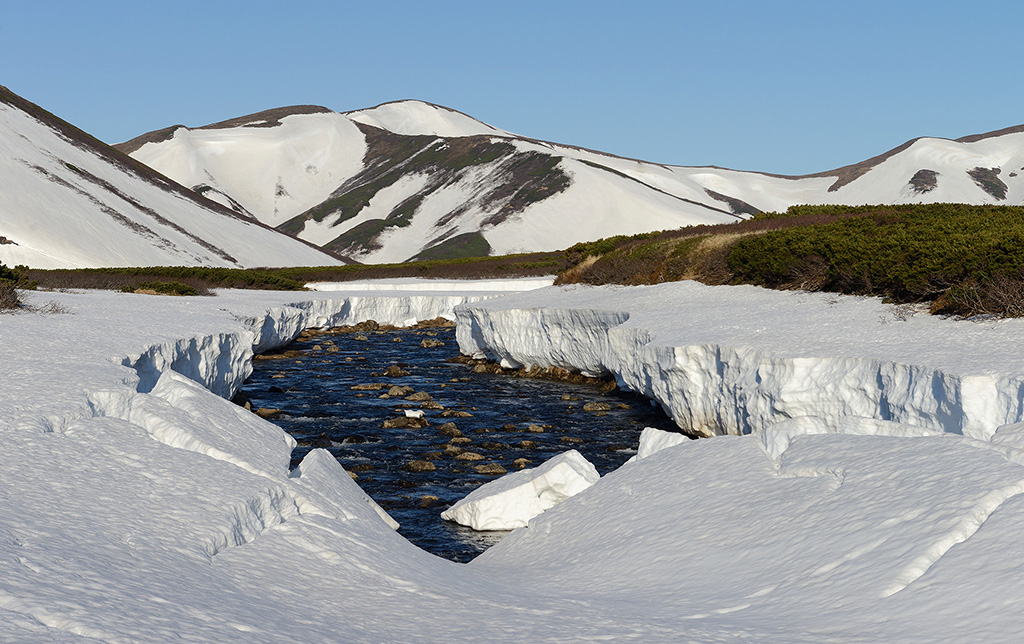 The Kambalaya River in June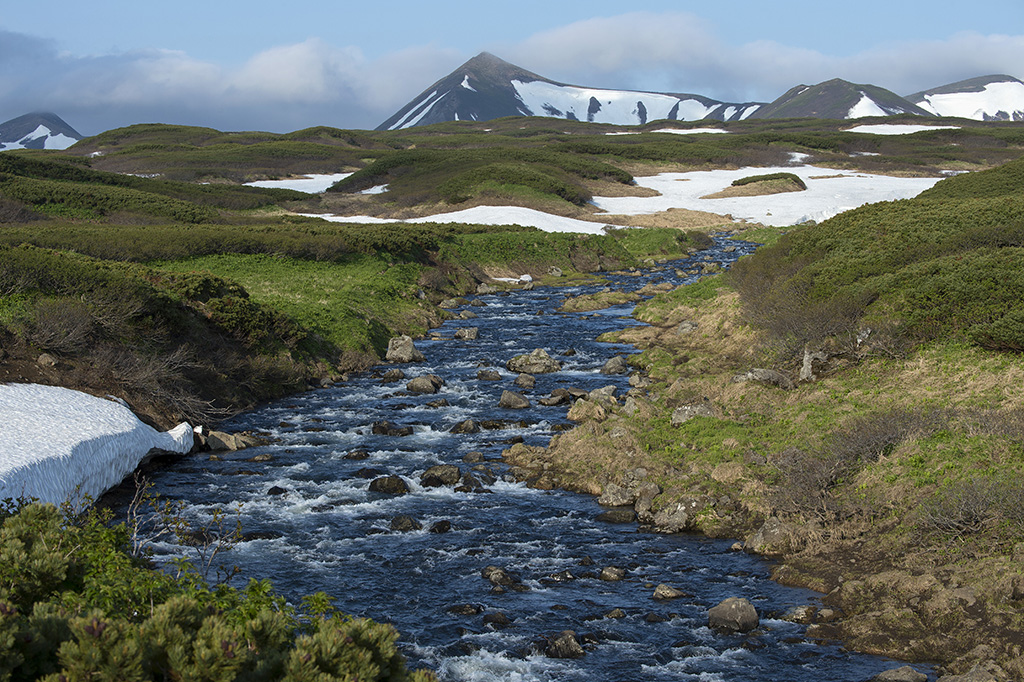 Middle reaches of the Kambalnaya River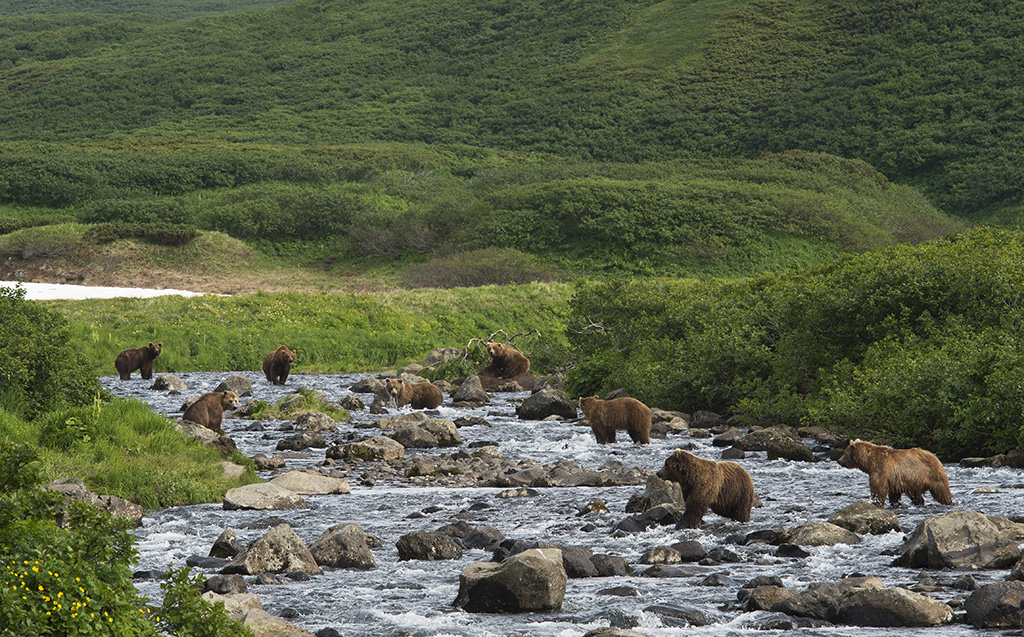 The Kambalaya River in mid-July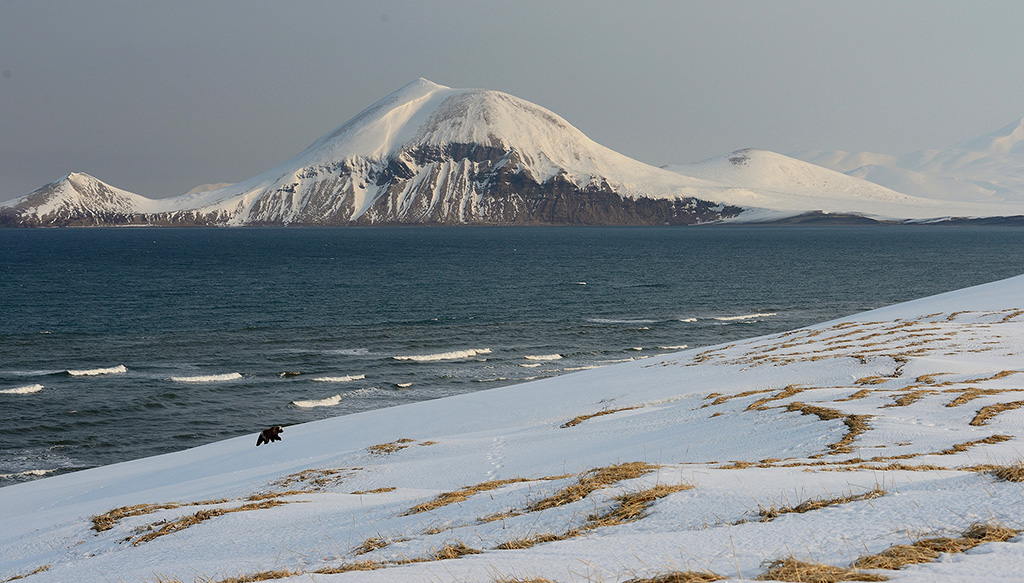 Sea of Okhotsk (Maria's Bay) on the west coast of the sanctuary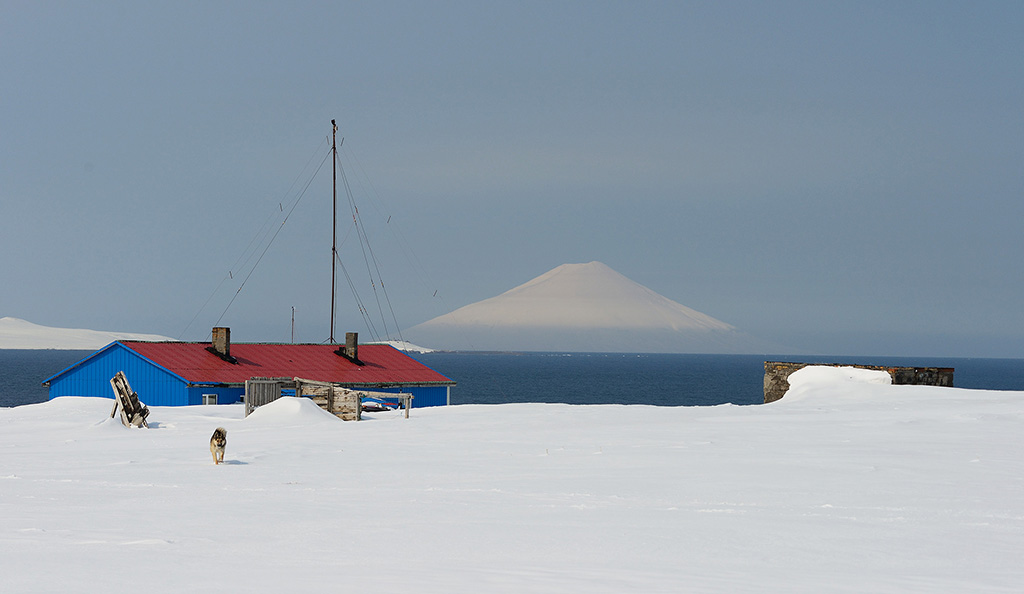 A weather station at Cape Lopatka. Shumshu and Atlasov islands can be seen behind the First Kuril Strait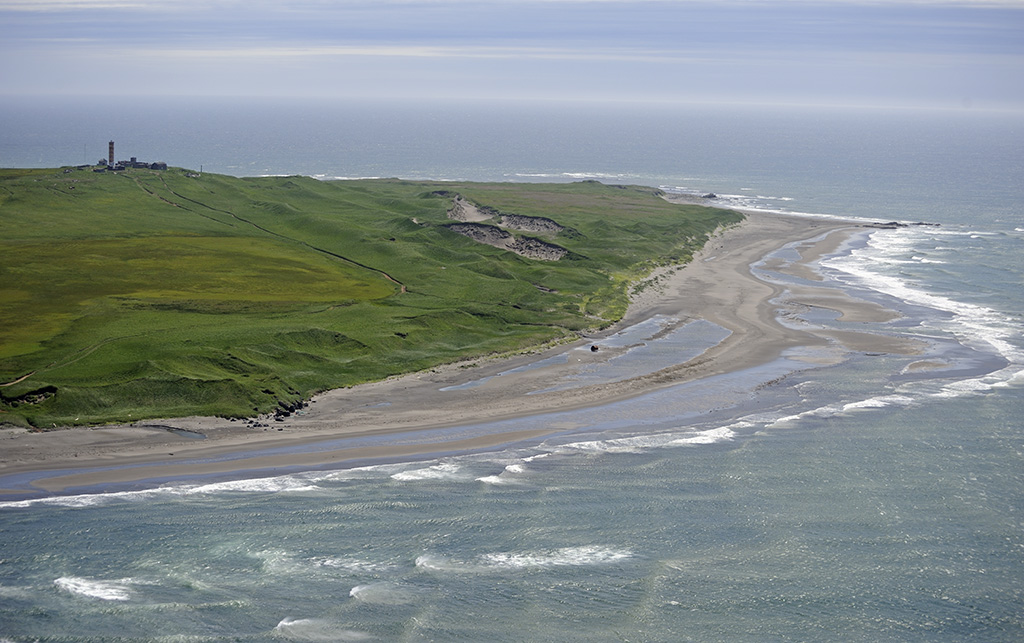 Lighthouse on Lopatka Cape - the southern tip of the Kamchatka Peninsula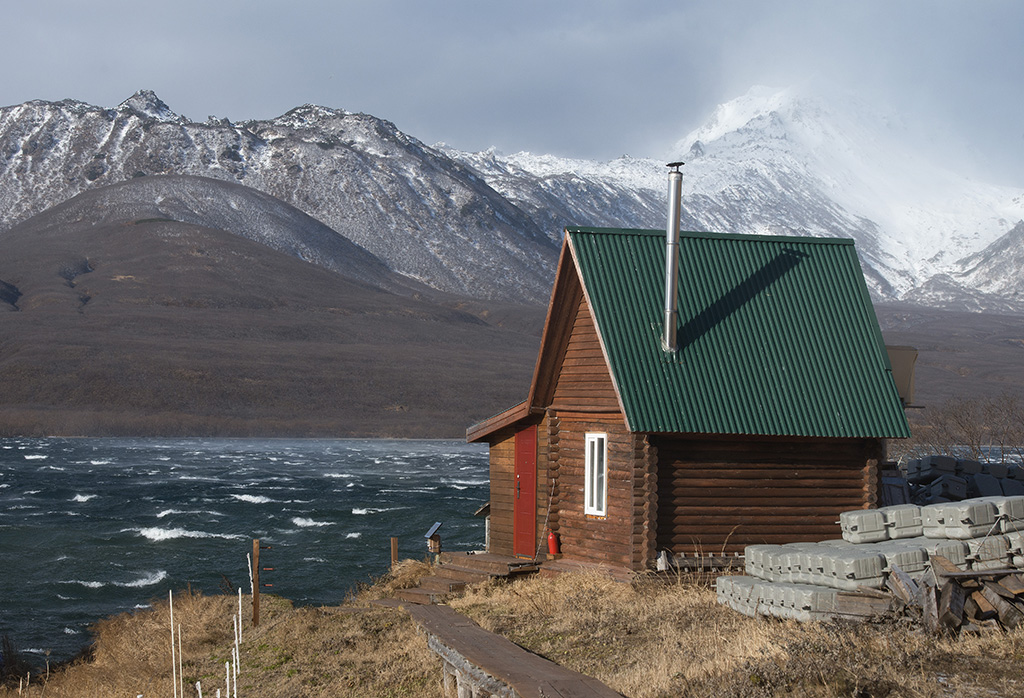 A tiny house on Cape Travyanoy - my favourite accommodation on Kuril lake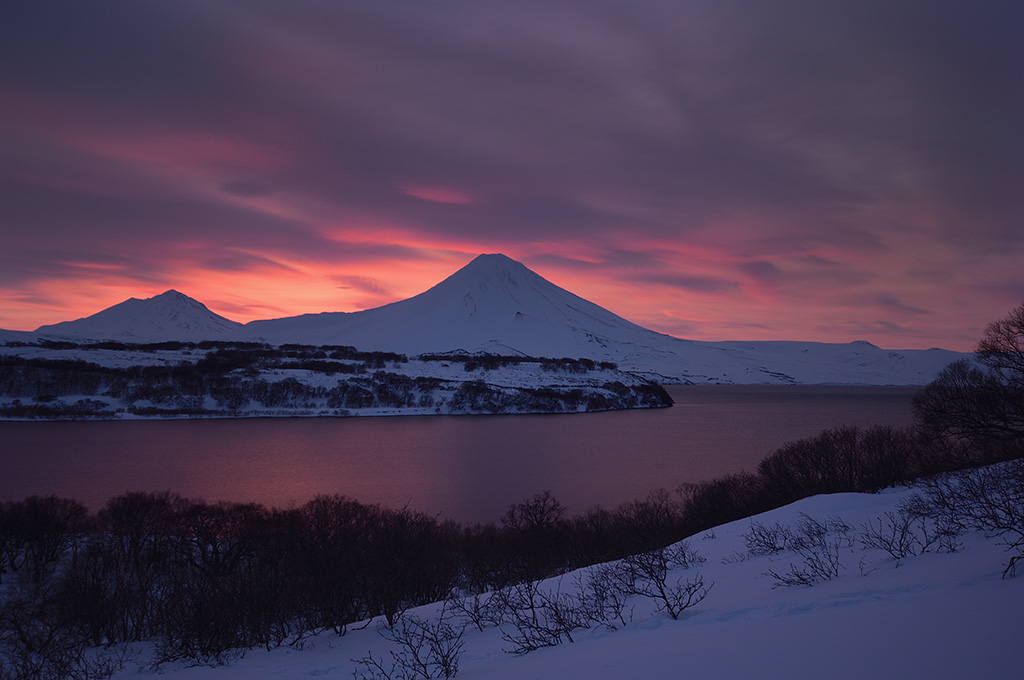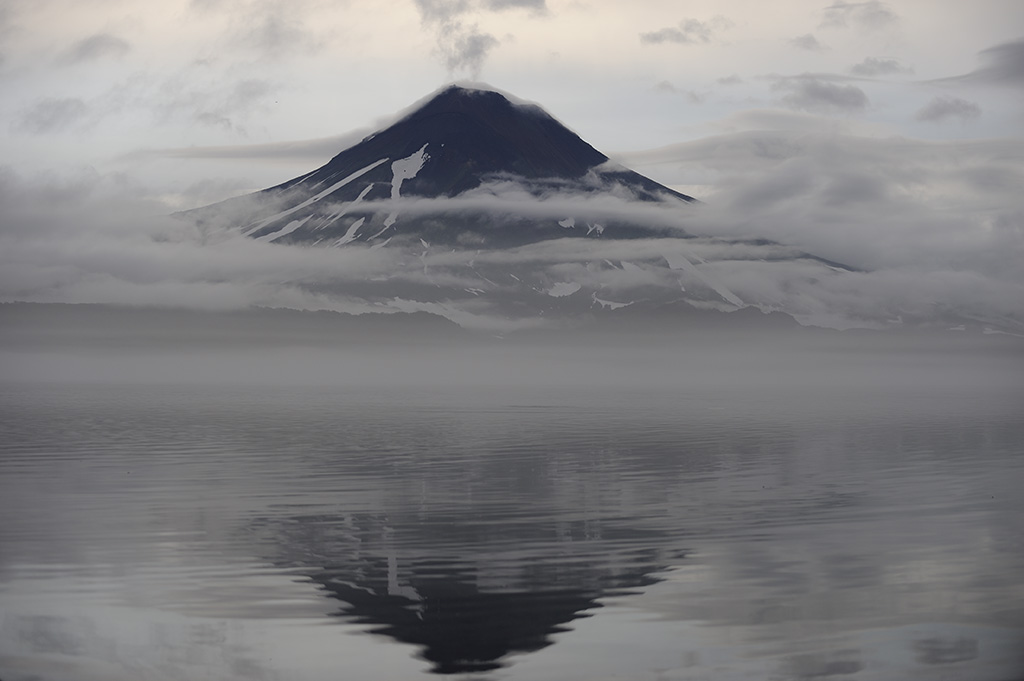 Ilinsky Volcano reflected in the morning waters of Kuril Lake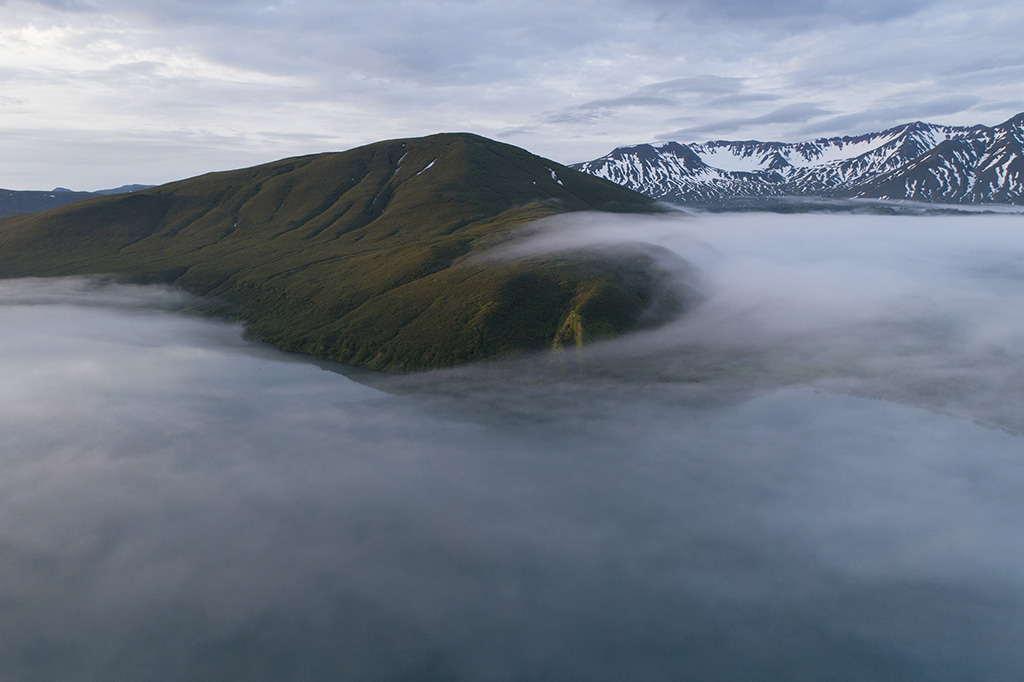 A swirl of fog over Kuril Lake near Mount Kirushutk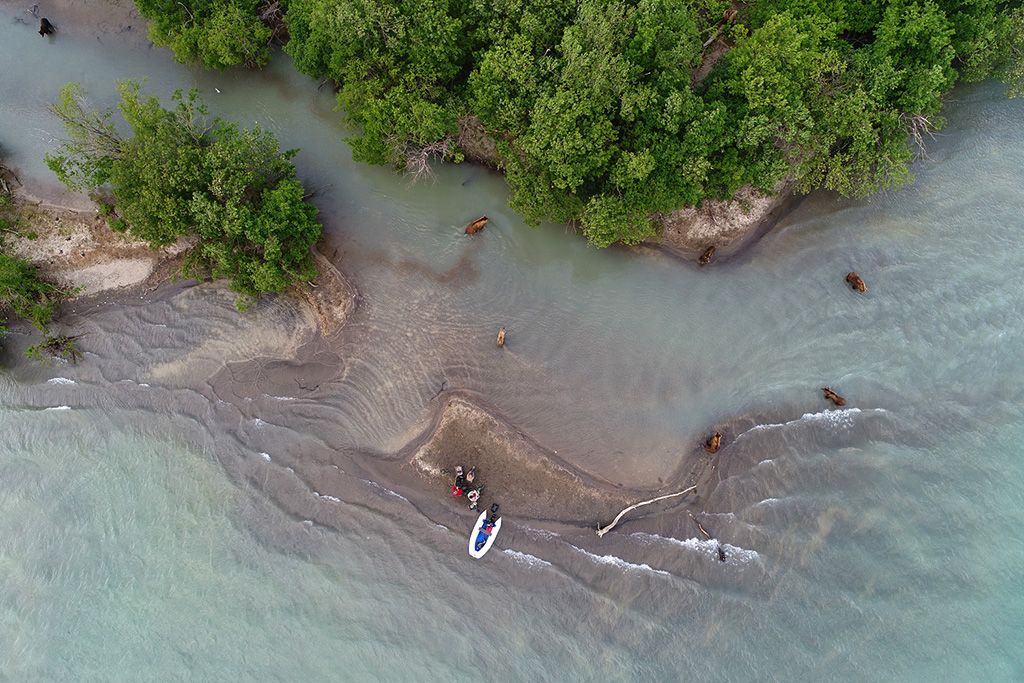 Kuril lake. Photographers and bears at the mouth of the Vychinkia river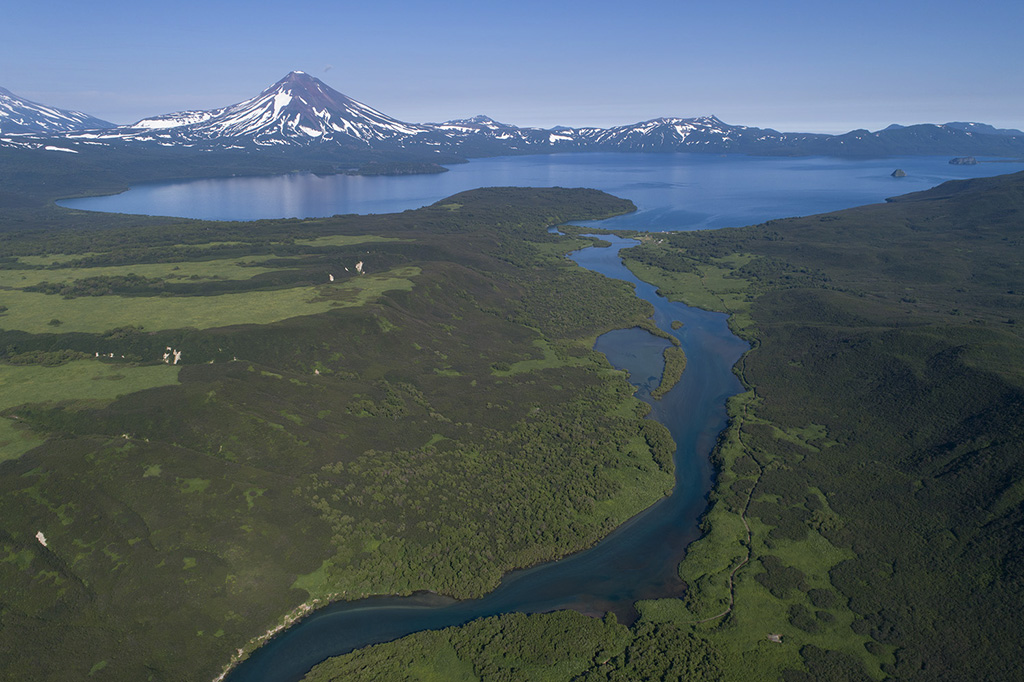 The Ozernaya River flows out of Lake Kuril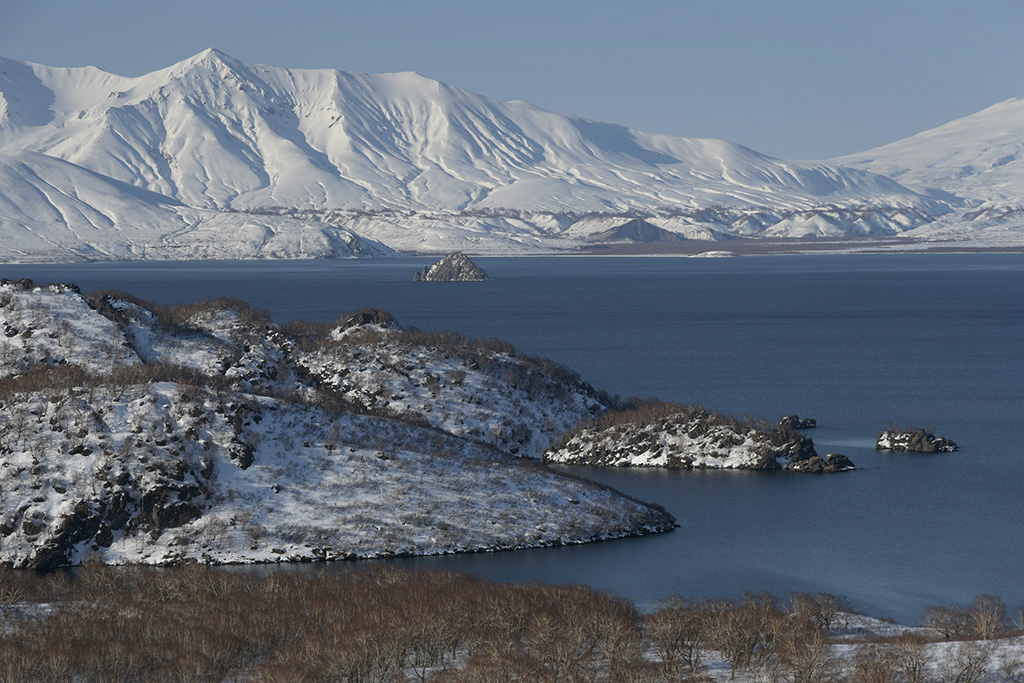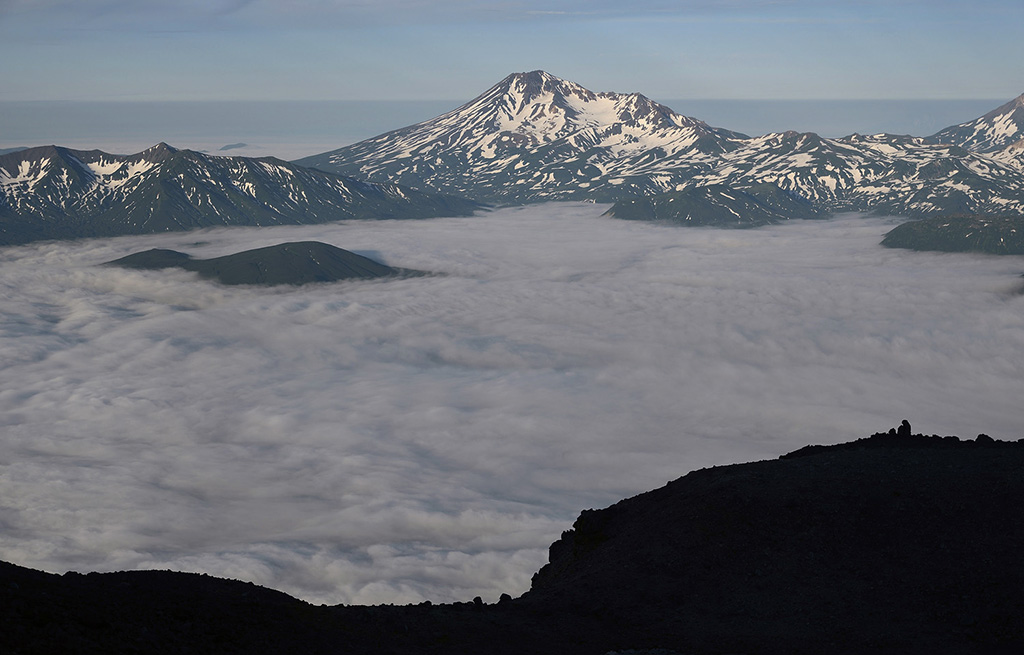 View of the misty basin of Kuril Lake from the crater of Ilinsky volcano